A Short Review on Nokia N97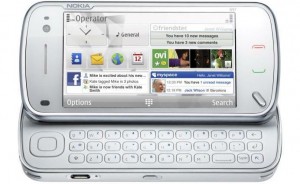 Nokia N97 can safely be said to be among the most powerful feature rich phones that nokia have ever made.
The Nokia N97 is a S60 5th Edition mobile computer with a large 3,5", bright nHD (640 x 360 pixels and 16:9 aspect ratio) TFT color display with resistive touch screen and tactile feedback. The device provides excellent user experience for internet and entertainment by combining qwerty keyboard with touch UI and Home screen functionality. Use the N97 to connect to mobile broadband using WLAN or HSDPA (3.5G). Find directions and locations with the integrated A-GPS and included maps. Additional features include game titles with N-Gage, a 5 mega pixel camera with dual LED flash and automatic geotagging of images and videos.
Though, the N97 incorporates several elements from the Nokia 5800 XpressMusic. But the N97 is more than just a 5800 with a slide-out QWERTY keyboard. It also steps into the territory of the Nokia E90 and Nokia N810 series of devices, and it competes effectively with the Nokia N96 in most respects. However, all these alternative models have different strengths and weaknesses compared with the N97.
At 150 grams, the Nokia N97 is fairly heavy (but much lighter than the E90). The large 1500 mAh battery gives up to 5 hours talktime and 16 days standby time on 3G, 4.5 hours of video playback or 37 hours of music playback. The Nokia N97 measures 117 x 55 x 16mm (although it is a little thicker where the camera is).
A Quick Look To Guage The Features of Nokia N97
Network: GSM 850 /900 / 1800 / 1900 +
UMTS 900 / 1900 / 2100
Data: GPRS + EDGE + UMTS (3G) + HSDPA + WiFi
Screen: 640 x 360 pixels, 16m colours
Camera: 5 megapixels
Size: Large slider
117 x 55 x 16mm / 150 grams
Bluetooth: Yes
Memory card: microSD
Java: Yes
GPS: Yes (A-GPRS)
Battery life: 5 hours talk / 16 days standby (3G)
6.5 hours talk / 18 days standby (GSM)
Nokia N97 is among one of the best phones in the market and is now available at Dial a Phone.co.uk for a very good price.